Home
Family
Ministry
Interests
Travel Blog
Location
Contact
"Discover who we are and what we are doing."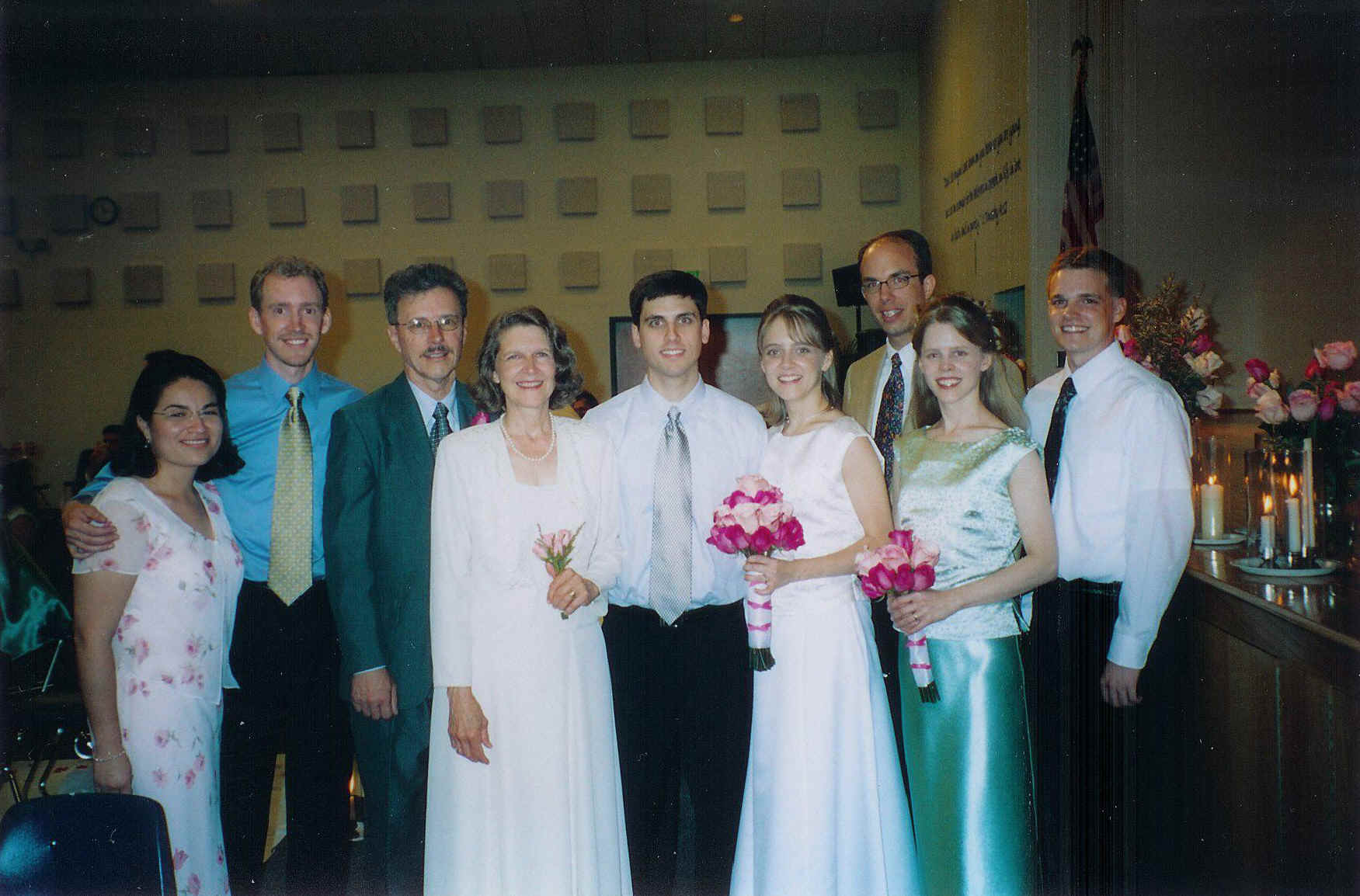 In case you are not sure who is who... The picture isn't the latest, but here were are from left to right: Monica, Andrae, Yours Truly, Ruth, Sy, Renessa, Hans, Merrily, and Carmody.
My wife, Ruth, and I have been married since June of 1971. Ruth is the best friend I could ever have. She is a super homemaker and has taught many piano students.
Our daughter Merrily graduated summa cum laude May 1996 from Northwestern College, St. Paul, MN. She married Hans in September of 1997 and secured a position as an elementary teacher. She taught first grade in the past and is now teaching third. Hans is financial administrator of computer systems for a company. They recently bought their second house. They enjoy hosting internationals who are learning English.
Our son Andrae graduated June 1997 summa cum laude from DeVry Institute of Technology in Phoenix, AZ. He lived for the last six years in Montana and worked as a staff engineer for a utilities company. He enjoys woodworking as a hobby. February 26, 2005, he married Monica. The ceremony in Burbank, CA, was lovely, especially for us from Montana and at that time of year. March 22, 2006, they brought Josiah into the world. Josiah is growing fast and loves words. They have moved back to California to live near Sacramento. Now Andrae is working as a software engineer for an integration company. July 25, 2009, Josiah was joined by a brother, Ethan. Recently they bought their first house.
Renessa graduated May 2002 magna cum laude from Grace College in Winona Lake, IN. She married Sy in 2004 who was at that time a seminary student. They now reside in Central Asia as global workers. Renessa gave birth to Winslow in August 2007. He's an active guy like his dad. In February 2009 a little girl, Alethia, joined them. In 2010 another little girl was born, Maisie. And in 2013 a little boy, Finnley, was added.
Carmody graduated June 2003 summa cum laude from DeVry University in Phoenix, AZ. He is working for the U. S. Army as a guru in wireless systems. He married Christy (a registered nurse) in April 2008, and they have made their home in Arizona. I gave the message at the wedding, and it can be accessed here. July 10, 2009, Christy gave birth to a little girl named Ella. And on July 3, 2012, Levi Thomas was born. Now there are four.
Ruth and I met at Grace University (then Grace Bible Institute), Omaha, NE. I earned a Bachelor's of Sacred Music there. After two years there she transferred to the University of Nebraska at Lincoln from which she earned the Bachelor of Science in Elementary Education and Music. At the U. of N. I also received the Master of Music in Education. In addition, I have studied two years at Grace Theological Seminary, Winona Lake, IN.
Besides having been a pastor since 1974, I have been a part time piano technician since 1977 (after receiving a diploma from the Empire School of Piano Tuning). I have driven school bus for six years and been a professional packer/mover for about the same length of time.
As of July 15, 2015, we have retired from the pastorate and relocated to Sierra Vista, AZ. We are learning to live in an environment that is different on just about every level.