Rally in the Gorge
Yes, this year I went to Sportbike Northwest in Stevenson, WA, again, but this time I brought Ruth along. Now I don't expect her to ride on the back of a motorcycle (so far she doesn't want her own) 500 miles a day for two days going out and and two days coming back. So we drove the pickup and trailered the bike out.

We were blessed with great weather for this kind of trip. We were places where people would have preferred rain to water the dry ground and to suffocate fires, but we experienced mostly sunshine. The clouds we did see did not drop rain. We would have gladly accepted rain for the sake of others.

The first night we camped (really pickup-boxed because on this kind of trip we sleep in the pickup box which has a topper over it, so you understand what I mean when I say "camped") in Deer Lodge, MT. This little town is famous for the State Prison, but we managed to avoid that facility. We are not highly 'wanted' anywhere, I guess. That evening we enjoyed a rousing game of badminton.

We kept to the interstate as much as possible. Our pickup is a 1993 Mazda, and, though it runs well, it lacks a little oomph when going up long, steep hills while pulling a loaded trailer. Interstate was a better choice because of the hills being somewhat less extreme and because towns are only a scene as you race by--don't have to slow down.

Tuesday morning, August 21, we drove to Missoula where we enjoyed breakfast at the Shack Restaurant. We were informed about this restaurant in Via, the magazine published by AAA. This place is well known for their pancakes. I had the whole wheat and honey, and Ruth had the oat bran. I have never in my lifetime (only one I've had) seen such a long and varied list of omelets. So little time and so little capacity!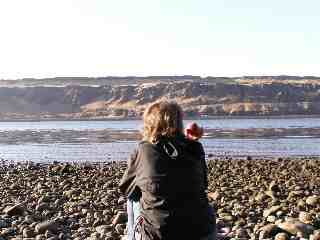 By night time we had settled in at the Peach Beach Campark about twelve miles south of Goldendale, WA. Can you guess what features this campground provides? Well, think about it a bit. It is snuggled in right beside peach orchards and right on the shore of the Columbia River. We would recommend it, but they accept reservation calls only for two hours on Tuesday (sorry, I can't remember which two hours they are). By the way, the peaches were very good!

Wednesday we cycled to Mount Hood before beginning our day's ride formally. We dined breakfast at Shari's, a chain of restaurants in that area. Shari's has great breakfasts, some a little different than you can get around here. I had the Cinnama-sation Breakfast, and Ruth had the Country Benedict.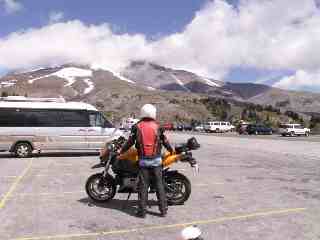 We cycled from there to finish a tour around Mount Hood that I didn't finish last year. The instructions for the tour included a road that was not labeled as the book had it. But a visit to a fire station fixed that. We completed the ride and visited four or five water falls as well. Curves labeled 10 mph and 15 mph were uncommon to us, but we were glad for the advance notice.

In the evening we drove the pickup to Goldendale where we joined the group wanting to look through the big telescope at the observatory. We all saw Jupiter with three of its moons and a portion of our moon (the telescope is too big to get all of the moon in its view). Then clouds clouded our view, and the astronomer decided that we'd have to give up stargazing for that evening. However, four of us hung around, and we discovered to our delight that clouds which move in can also move out. After that the stargazing became very interesting as our astronomer found one sight after another including binary stars, a nebula, and star clusters.

Supper at The Sodbuster in Goldendale consisted of two very good garden salads with my Fried Chicken Dinner and Ruth's Patty Melt.

Thursday we transitioned to Stevenson where we would "camp" the next three nights. We didn't use The Hooligan (our Buell Ulysses) at all that day, but I did demo three Triumphs--the Rocket III (2300 cc cruiser), the Daytona (675cc sportbike), and the Tiger (1050 cc dual purpose). Those three were as different as can be, but it was fun.

Friday was the poker run in which we did not participate. Is a poker run gambling? Well, I recently read the official explanation. A poker run is gambling unless associated with it is some activity involving skill. So some poker runs have a dart throwing contest at the end. I guess it would still be gambling for me, since for me throwing darts is taking quite a chance!

Instead in the morning we first rode the Mosier Loops tour over in Oregon. That was a nice relatively short ride. It is a road that is used for photo-ops with new sports cars, and we now know why. At noon we stopped at the Acre Organic Coffeehouse in Hood River. As we stopped two bikers pulled up and asked if we had been riding with a fellow who was hit by a car. Turns out someone on a Buell had been riding with him. We had not. It was the car driver's fault, but the cycle rider was the one who sustained the injuries that motivated his visit to the hospital.

Taking this ride involved crossing the dreaded iron grate bridge twice that day. It wasn't as bad on The Hooligan as it was the previous year on the Turbo. But it was nice to get across so I could breathe again.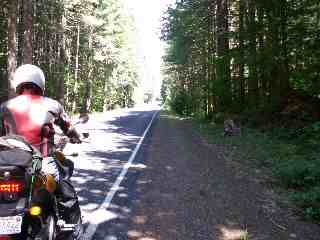 That afternoon we took the longer Three Rivers Loop northwest of Stevenson. One of the highlights on this trip was a vista from which we could clearly enjoy Mt. St. Helens to the northwest. Also at this vista we visited with a cycling couple from Australia. Another highlight of the area was roads as corridors lined with very tall pines. In other places roads lined with other kinds of trees that actually met above the road creating a kind of tree tunnel. It was awesome!

We ate that evening at the Big River Grill. Ruth had the Reuben with Salmon Chowder, and I had the Chef's Special Steak. The vegetables there were outstanding, and actually the remainder of the food was also very good.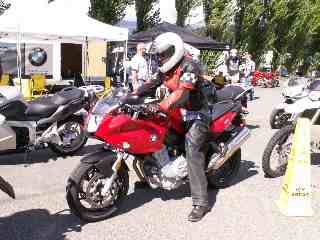 Saturday I took two more demo rides. The first on an Aprilia Caponard (I preferred the Tuono R, very like their racing bike, but it was scheduled until who knows when), and the second on a BMW F800S. The BMW is a new attempt at a parallel twin. Parallel twins were in style years ago and somewhat fell out of favor. It was nice, a bit odd as most BMWs are, but down on power in fourth and fifth gear.

After that we rode to the Maryhill Museum where I left Ruth while I went on to ride the Maryhill Loops, probably the most famous ride associated with Sportbike Northwest. It consists of 3.5 miles up a very loopy private road built as a test for road building. It begins at the bottom of a huge hill and goes up in serpentine fashion. The road is rented for the day by Sportbike Northwest. To take some of the corners at 25mph is practically death-defying. There were two accidents there that day, one happening almost right behind me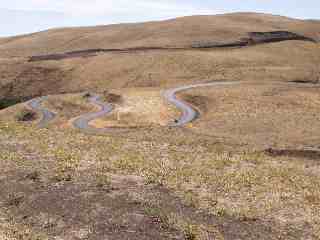 after I had ascended. That brought everything to a halt for a while. The bike that went down then was a mess, and the rider was moreso than he realized at first--he proceeded to hospital later that evening. Personally, I thought the Maryhill Loops were overrated. After going back to the museum to get Ruth and spending some time there, we stopped at the Maryhill Church and the replica of Stonehenge that Sam Hill built. Then we returned to Stevenson. It was a very windy day in the Gorge, and we were against the wind all the way back to Stevenson. The wind surfers in the river seemed to use it to their advantage.

Saturday, the rally provided breakfast and the evening meal. They were both catered and were quite good. The main dish in the evening was called something like paia (rice, meat, etc. etc.) and was made in pans shaped like huge woks about three or more feet across. It wasn't our favorite, but there was enough of vegetables, fruits, and ice cream with brownies to make up for it. We came away from the final meeting that evening with each a pen and with Ruth having had a cap (some boot company) land on her lap.

Sunday we were up before most. We had loaded everything Saturday evening so we could get away quickly. We got down the road about 160 miles to Kennewick so we could attend the Calvary Chapel there. But first we had breakfast once again at Shari's (same chain as in Hood River) where Ruth had the Honorary Bacon Omelet and I had the Flat Iron Steak with stuffed hash browns. We enjoyed the church service which lasted, to our surprise, 1.75 hours. The message out of the first part of John 3 was excellent. It encouraged us on our way as we left and reminded us that you can have position, possessions, and influence without satisfaction. Satisfaction comes by being born again of the Spirit Who then enables you to produce the fruit of the Spirit. That is a satisfying, productive life.

We drove purposefully on to Missoula, MT, where a room at the Gibson House B & B was waiting for us. This house had an interesting and varied history. The original owner lived in it only five years. The people who currently have it are the thirteenth owners. It was even a sorority house for the U of M for a while. It was huge and had four lodgings on the second floor. The owners lived on the third floor.

When we got up in the morning, there was shortly a tray outside our door with blueberry scones and coffee. Later for breakfast we enjoyed huckleberry/peach pancakes and bacon in the dining room. The house had a yard that interested us; there were flower gardens, a gazebo, and even a chemical toilet. Taking care of a large house like that would be almost a full time job. There was a large deck adjoining the second floor (suite), a porch on first floor, and six huge pillars in front. We had the City Room, so we had a nice view of the city out our window, especially the lights at night.

Monday we were really thankful to drive into the gas station at Three
Forks under power. The gas gauge had been nearly on the bottom for some time. We had a sandwich and wrap in Miles City at Brewster's, a nice place which used to be a Hardees. Our prediction, which we is hope is wrong, is that that establishment will not be open long-- something to do with oddities in the presentation of the food and also the slightly high prices.

On this trip we slept quite well with only one night being slightly
short. Yet we have slept really well upon arriving home. The equipment worked well with only some minor glitches. We put 2188 miles on the Mazda and about 600 on The Hooligan in the trees. The bikers were involved in something like eight accidents, but we were not. Occasionally we would meet another attendee and be surprised that there were not more accidents. But all in all most people were quite friendly.

Maybe bits of this trip seem rehashed in that I attended that event last year. But this year was better in the sense that I had my favorite companion along, so there was good conversation at every stop.

Next year who knows? Perhaps other challenges await somewhere else. We may return, but think that we have conquered most of our goals there. (There is still the Three Flags Tour, the trip to visit missionary friends off the coast of British Columbia, Canada, and...)

We are home right now for a crazy week after which we are off to Ohio to visit little Winslow and his parents (Sy and Renessa). This time we are involving wings instead of just wheels.

Until next time, keep the rubber on the road, Arlie (for Ruth also)
Posted by turbooster at 11:04 PM MDT
Updated: Saturday, 15 September 2007 12:21 AM MDT