Actually took a Sentimental Journey--dah, dah
Gotta take a sentimental journey, dah dah dah dah dah dah dah. Some of you may be too young to remember the song, but I enjoyed playing it in our WPHS stage band over 40 years ago. Yeah! that's nostalgia! I still know how it goes, and now I also know what it means.

Our major purpose on this trip was to prepare for a reunion of the currently living members of the Helmuth Penner family. This reunion is to happen in 2008 in and around Beatrice, NE, where Ruth and her brothers grew up. So, prepare the bike, and off to Nebraska. We left about 7:40 AM Monday, July 9.

The first day we traveled through the Black Hills of South Dakota where we reminisced about some memorable and some dubious camping experiences at the Union Campground and later the Fish N Fry Campground. We passed both places and noted the obvious improvements. Ok, some would call them improvements, but who can tell? definitely more buildings. (Before entering the Hills, we enjoyed very special coffee at my favorite coffee shop in Spearfish.)

We stayed near Hot Springs that night with friends whom we had not seen for maybe thirty years. For a time I was pastor at the church in (not near Hot Springs) South Dakota where the bride grew up. I served as the officiating pastor at their wedding. Seeing them in their environment working in the medical and insurance community, ranching, working in their local church and a local Bible school, and catching up on the news was certainly a treat for us. They were concerned about the fires in their area, and they had reason to be. The location of the fires was such that we ourselves were not impacted by them. The aged beef kabobs in the evening and the waffles and sausage in the morning were right on target!
The next day we rode on to the Ord, NE, area. Riding through the Sand Hills is a pleasurable experience, especially if you enjoy boxing. The day was fairly pleasant, but it was windy. I suppose the nature of the wind there is determined by the hills, of which there are many and of which many are small. The wind seemed as a sparring partner. Jab, jab, jab,...POW. And then repeated with varying rhythms. But our old Beemer handled it well. The evening meal in Ord was delicious at the Mexican Cafe even though the construction in the middle of town made getting a parking spot nearby a challenge. That night we stayed at the Shepherd's Inn B & B after some difficulty finding it due to paucity of accurate instructions. It was an all around pleasant experience, and part of the privilege was paying for it. If you pass through Alliance, that railroad town, you should really stop at the bakery downtown. They have huge rolls, and they are known even up to Alaska for their bismarcks. They make 1100 to 2000 bismarcks twice a week.

The Beemer managed its best mileage of the trip Wednesday; it was nearly fifty mpg. Can you believe that Nebraska has a fifty-five mph speed limit on some roads? There is a reason for it, even though it seems that one should hop off and run alongside. The vegetation in some areas comes right up to the road with virtually no shoulder, thus a lower speed is appropriate, especially to avert contact with certain animals that may appear suddenly in one's line of travel. So, mileage really is related to speed?
After french toast and an egg in a nest, we resumed the journey. We went way back in time at the Homestead National Monument near Beatrice. Hiking trails and a new Heritage Center--which some say is shaped like a plow share--with its hands-on exhibits make this a special place. Those disputes between the open-range ranchers and the incoming farmers got fairly intense. Then we stopped at the Mennonite Church's graveyard where the bodies of Ruth's parents are interred. It took us a while to find them. But really the assignment was easy. You just walk along every row of tombstones and read every name until you find the right ones. It didn't help that almost half the tombstones said "Penner" them. Even more than one "Marie Penner." But we finally succeeded.

After the must stop at the Runza Restaurant (runzas are a Nebraska special), we checked in at the Carriage House B & B for the next three nights. Let me sum up our stay there by saying it was quite nice. Drawbacks were that the owners do not live there and that the air-conditioning vent is positioned right above the bed. But the food was good, our hostess was an excellent cook/baker, and she became somewhat of an angel for us as you will discover later.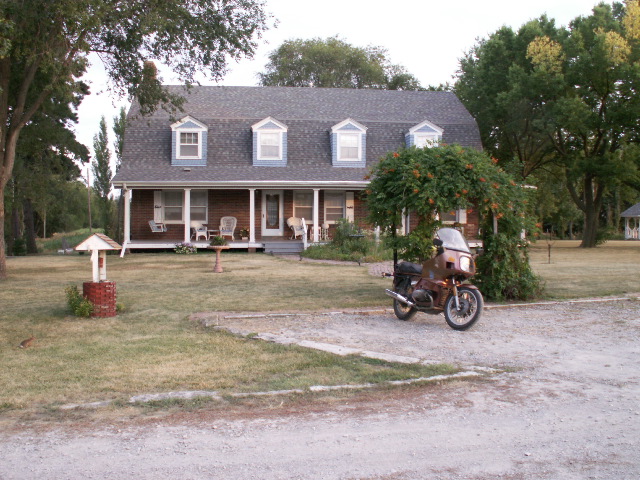 Let's see, now, this must be about Thursday. We are at our destination for researching and planning next year's family reunion. All is set. After a breakfast of strawberry french toast and sausage, we were off to the library to obtain information about using their meeting room. The Beemer acted funny there by not wanting to start, but then it started as usual, and we were off to Chatauqua Park to evaluate the possibilities of using one or part of a shelter there. By the way, the park is a lovely one, and if you chance to Beatrice, you should at least drive or even amble through it. When we were ready to leave, the Beemer would not start. The lights would come on weakly, but nothing else.

I need to inject here that if you ever break down, please do it in a park. It was a lovely place with shade, restrooms, and people with cell phones.

At this point our attention shifted to the issue of transportation while the reunion was hastily shoved out of sight. Most of the rest of that day was dedicated to the ailing Beemer. I can't possibly recall all that took place, but I will say that everyone in the vicinity was most compassionate and willing to help. This began with two men who had cell phones: one was mowing the park at eleven mph on his diesel-powered mower, and the other was biking through the park for exercise.

Eventually a large tow truck with two men arrived. The power pack indicated that the bike would start, but it would not keep running without the power pack. Either the charging system was bad, or the battery had a short. They said they'd be back after lunch, hopefully with a new battery. They were. With the new battery, the bike would start, but their voltage tester indicated that the charging system was bad--it could not charge as much as twelve volts, and it should have even charged more. Some phone calls indicated that no one in Beatrice works on bikes; after all, it is a city of only 13,000 people. So we tried the Lincoln phone book. Star Motorsports sells many kinds of bikes including BMWs. Great! We'll send the bike the forty miles there. So we called them. Actually, they have not sold BMWs for years, and they do not work on them. The closest BMW dealership is Omaha, but there is a BMW tech at another cycle establishment in Lincoln.

I have a policy with AMA Motow for just such situations, though it is the first time in 70,000 miles that I have ever had a breakdown away from home. And when it's at home I fix it myself. It's Thursday, and I'm thinking that someday we may get home; when we do, I will write a travelogue, and it will sound much like the travelogues Lyle writes (they break down every time they go to Colorado).

So we called AMA Motow. They asked me to wait a bit, and soon they said a tow truck would be there in about twenty minutes to deliver the bike to Lincoln. Now we are getting somewhere. Sure enough, soon another large tow truck arrived. We assisted him slightly in loading what looked like a very small bike (too bad I didn't get a picture of that) onto about the middle of the flatbed of a very large truck. And the bike disappeared. Would we ever see it again?

I'm getting ahead of myself. I hate it when that happens. Then I have to slow down to catch up. Anyway, actually we left with him. Someone located for us the one vehicle that could be rented in a city of 13,000 people, a Montana van. I think it was a Chrysler product, but the "Montana" was acceptable. So we had wheels from the GM dealership. Now we could get back to the reunion.

That evening we had pizza at Valentino's, a famous Nebraska pizza restaurant, and a candidate for some meals at the reunion. Later we drove to the Villa to visit Ruth's two aunts who will both be arriving at the ninety-year milestone within the next few months. That visit was informative and just plain fun. These gals are blessed with fairly good health, a good sense of humor, and great minds. They even gave us some help planning the reunion. It looks like some of it will take place at that very facility, which has a lovely meeting room which can be used for such events. Beatrice seems to us to be a city which provides well for the elderly. Many cities do not have the proper facilities for all stages of growing older, but there there are options, and the place these ladies live is really well planned. Where can we sign up?

Friday (after egg casserole and monkey bread and a watermelon ball coated with yogurt and blueberries) was dedicated to motoring around Beatrice in Montana (doesn't that have a nice ring?), but first I called Lincoln. The responder said they were just then putting the bike on the stand and they believed the bike would have either a bad rotor or a bad rectifier. Good. Glad to know they are on the hunt.

We didn't want to eat all the reunion meals at Valentino's, so we shopped around. We stopped at a steak house. Nice, something like Bonanza. But the lady said, "We won't be here next year." What? She was selling the place, and it would become something other than a restaurant. Which meant that there really is no family restaurant left in Beatrice, at least none with a room set aside for groups, but there may be a dozen fast food places. Wonderful! We may have to eat more than one meal at Valentino's. We ate at the steak house that evening. I had the sirloin, and Ruth had the chopped steak. Very good. But they won't be here next year.

We also drove Montana down to Odell where Ruth went to high school and took the driving tour around town. The school has recently merged with another school. Memories. And changes. But the little town looked nice. We stopped at the farm where Ruth grew up. No house. Just a hole where the partial basement was. Everything was overgrown. The evergreens they used to trim were huge now. There were trees where there hadn't been. She found some landscape rocks and some cement steps. It was so different. It's people that make a home and a history, not what is left when they leave. The windmill had not been moved. The buildings and grain bins were different, but nothing there is really being used anymore.

While at the Chamber of Commerce's information center, we were perusing some old plat maps of farm land when Ruth practically ran into a lady she did not know but who had heard the name Penner. On a whim, maybe an educated whim, she asked Ruth if she had ever won a Cosgrove music scholarship to attend a music camp at the University. Turns out Ruth did, over forty years ago. Well, they didn't know where Ruth was, and could she send an article about what she has been doing since that time. They want to know what good their scholarships are accomplishing. Amazing concurrence, isn't it?

We had to find lodging for the reunion. Check! We had to find eating facilities. Check! We had to find places for the group to meet. Check! We had to plan for a tour: farms, churches, schools. Check! Now all we have to do is get reunited with the Beemer. By the way, how is the work on the Beemer coming? At 2 PM Friday I called. The responder said the bike was ready to go. The rotor was bad. A new one from Kansas City was too expensive, so they found a used one close by in a wrecked bike. The bike was ready to go! Did you hear that?! How will we be reunited with the Beemer?

Now there must be hundreds of people every day who travel the forty miles from Beatrice to the big city. The challenge is to find one who has room. We considered various possibilities. One of these that would not work was driving Montana to Lincoln and then coming back with Montana and the Beemer. Why wouldn't it work? Because, since Ruth was going to be only a passenger on this trip, she didn't bring her driver's license. So, we decided we would ask our hostess first. "Would you happen to know of anyone going to Lincoln tomorrow morning?" And she replied, "I am, and you can come along." Can you believe it?! I was wondering all along how God was going to work this out, and everything was moving along beautifully!

Saturday morning we had peaches, whole wheat pancakes, eggs, and sausage. Those pancakes were fantastic! Really! Our hostess took us right to the Lincoln establishment. Our man there said, "You sent your bike to the right place." I guess we did. From the options we had at any given time, God gave us wisdom. Two of the fellows working there ride BMWs, and they liked ours. Some of you are wondering how we paid for all this. When we go on a trip, we usually take more dollars than cents. So the money ends up not being an issue. We are grateful!

After attaching the luggage to the bike, I started it right up. We rode a few blocks on Highway 6, turned north onto I-180, went a short distance, transferred to Highway 34, and were on our way to Columbus. Really can hardly say we were in Lincoln--were there only about thirty minutes. That's ok since we had not planned to go there this time.

We stopped at the hospital in David City to visit a friend who is ailing severely from Crohn's disease. We really wanted to see her, but we discovered there that she had been transferred to Omaha. That probably is not good news. We stopped at her house near Columbus, but no one was there. That was not a surprise since her roommate had called earlier to tell us they were in the process of moving elsewhere.

We checked into the Super 8 Motel in Columbus about 1 PM and after resting and getting thoroughly freshened up, we walked the eighteen blocks to the wedding of a friend of ours by 4 PM. The parents of the bride were so surprised and happy to see us. We had returned the RSVP card, but we had left off the names and I had mailed it in June from South Dakota.

We knew very few people there. But, surprise of surprises! a family of good friends from the 1980's and their two daughters were there. So after the wedding we invited them to our motel room where we visited one and a half hours before going to the reception. By the way, they gave us a ride, too. At the reception we were able to visit with some more friends from Columbus whom we met shortly before leaving there in 1990. And at the wedding we were able to visit a bit with the pastor and his wife, previous acquaintances also. So that mission, too, was accomplished.

About 8 AM we rode out of Columbus Sunday after passing by the house were we lived for seven years. It still looks much the same, even the same color seventeen years later. We rode to Norfolk where we had breakfast at the Village Inn, one of our favorite restaurants. I had the Strawberry Crepes, which were outstanding, and Ruth had the Vegetable Skillet. After that we went to a church service.

Attending a church service on a trip is always interesting. We have different approaches to this. This year the church was chosen by name only (which for now shall remain anonymous). I did, however, call to verify service times. We found the location without difficulty. The people were very friendly, and we assume they make it a point to greet visitors. An adult choir sang, and so did a youth choir. Accompanists played organ and piano. Alas, I did not check the brands of these instruments, though I wanted to. The piano was a grand.

The songs were good, the Scripture could not have been improved upon, and there was good in the message. On the downside, the church obviously had a dress code which we did not meet (but they still made us feel welcome). Everyone obviously used the same version of the Bible. Our evaluation is that the text from which this pastor preaches may change from week to week, but the basic message does not. In other words, it doesn't matter what the text is. Such a great opportunity to explain God's Word to the listeners, and he didn't do it. But maybe the people like it so.

Sunday was my worst day of riding, and that is because I contracted a good old Nebraska cold by the second day in Nebraska. It reached its worst Sunday, and I ached all over. But we had to move on, and we did. For sentimental reasons, even the cold seemed appropriate. All the vegetation seemed to exacerbate it.

We angled up through South Dakota. We rode through Freeman, SD, and actually right past the hospital where Andrae was born. We passed through Bridgewater seeing the house we lived in there for three years and eight months and past the Zion Mennonite Church where I was plunged into the pastorate initially. We paused in Carthage for a brief respite and some shade. A lady exited the museum next door and invited us in. The building was unique in that the walls were built of straw bales, and it was nice inside. Glad we stopped. We continued on. We saw from a distance the Yale Bethel Church where my cousins pastored for many years. We stopped at the entrance to what used to be Byron Bible Camp and James Valley Christian High School. I have fond memories of the four summers I went to camp there. But some years ago the camp and the school were destroyed by a raging flood. This day the James River looked too mild to ever do harm. We stopped in Redfield at Subway to eat and continued to the Foote Creek B & B near Aberdeen.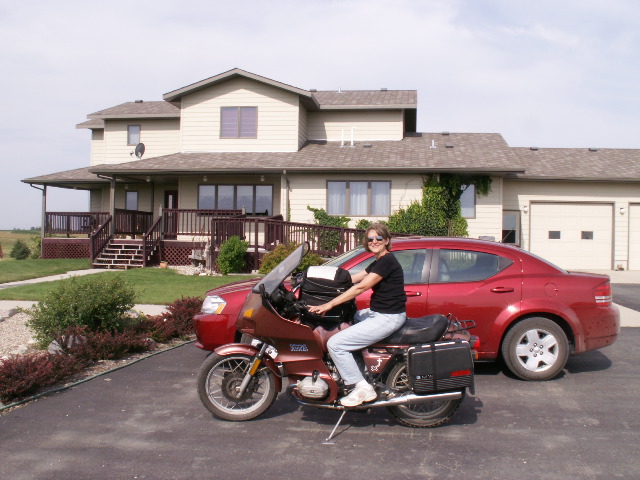 This B & B was built to be a B & B. It is a lovely place, and the host and hostess do a very good job of serving their guests. Honestly, I must say that I slept better there that night than I have anywhere in years. Ruth slept well, also, and later we evaluated why. There could be other factors such as tiredness and having a cold--but usually that just makes it impossible for me to breathe, so that I actually sleep worse. We think it was the quietness. We could not hear a train, or a semi, or a refrigerator, or even an air conditioner. So we were tired, and we put on a CD of relaxing music, and it was . . . so . . . . . . quiet. I had to put the CD on again in the morning, because I had heard almost none of it. And in the morning I felt much better and once again ready to ride!

Another couple was there all the way from California. They were visiting his mother who was one hundred years old! We had a nice visit over breakfast which included peaches with raspberries, toast, and a skillet or casserole of some kind. We planned to go home via Ellendale and Jamestown, then west on the interstate. But our hostess reported lots of construction that way. She showed it to us on the internet. We appreciated her helpfulness, and by her suggestion we decided to ride through the construction on Highway 12 going west instead! There was considerable from Hettinger to Gascoyne, but other than that we were glad for the redirection. It was more interesting than interstate, took us directly from Aberdeen, SD, to Baker, MT, and probably saved us a few miles.
We stopped in Marmarth to see the fairly new auto museum there. I thought it was quite nice. Most of the exhibits are Fords, but some other makes are also represented. I really liked the model junkyard! We were considering where we should eat supper, but we rode into the driveway at home about 6 PM, so guess where we ate!

1746 miles. The Beemer missed nary a beat on the way home from Lincoln. But Monday afternoon the way home was hot. The tires got quite hot, but apparently the Bridgestones are built to take it. The Sentimental Journey is now a memory. Most of our objectives were accomplished. We missed no appointments.

Until the next journey, keep the rubber on the road.
Arlie
Posted by turbooster at 11:59 AM MDT
Updated: Saturday, 21 July 2007 9:28 PM MDT